So a few weeks ago I posted pictures from our home when we purchased it in 2008. I only did the "Before's" because our house was covered in Christmas decorations. Now that those are down I figured I would finally show you the "Afters." We still have quite a few changes we want to make but I will explain those as we go! Today we are going through the Guest Bathroom.
Here is the before:
I had just moved in and tried to decorate as best I could
Here is the After:
In 2008 we painted just the back wall hoping it would be enough of an accent, hung some towels and that was pretty much it. We used Ralph Lauren Metallic Paint, color was Great Hall. I ended up painting the entire bathroom a few weeks later because I wanted something a little more dramatic.
The bones of this bathroom are alright although we would eventually love a major overhaul. We left the original floor tile (the same tile used to be in the kitchen/dining room.) We bought a great travertine tile we used as the transition from the dark tile through the house to the lighter tile in the bathroom which pulls it all together. We will eventually re-do the bathtub. It is a plastic tub surround that is older and needs repair. Our plan is to tear it out, replace the tub and tile the surround to create more room. Enough of what we WANT to do, here is what we DID do.
First up, I found this great towel bar at Ikea that matched the cabinet color.
Next, we decided to replace the toilet. We went for an energy efficient, white, clean, new toilet. I love it as much as you can love a toilet. (and yes, Jason taught me how to replace a toilet) Lowe's was having a great sale, we bought this guy for $100.
Next up was the vanity. Now that we have a toilet that is bright white, it made the old off-white counter top stick out even more. Although we would prefer to replace the entire vanity, we did the cheap fix because the cabinet itself was still in good condition. We found a great new vanity top at Lowe's for $138.00 (on sale for $118) and decided that would be a perfect update.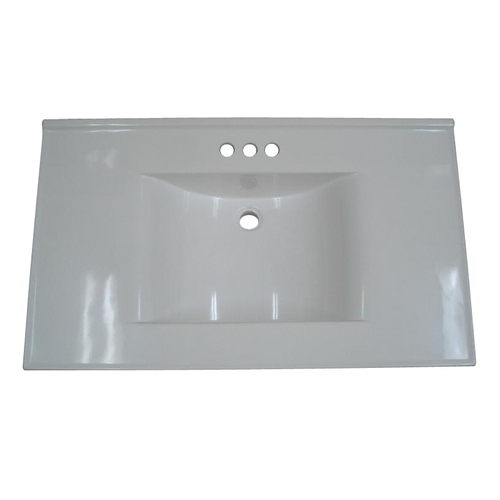 It was very simple to replace. We pulled off the old vanity with very little effort. We had to do some repainting because the old vanity had a surround but other than paint and caulk, we were in great shape. Oh, we bought the faucet from Lowe's as well for $28.
So for about $325.00 we revamped our Guest Bathroom. Granted, it took us two years to do because we slowly replaced things little by little. (We are broke newly weds trying to fix up a house) BUT, I love the wall color and the cool metallic finish. I love the new sink and how everything just feels clean. There are still some "wants" for this space but we are very happy with it for now. Here are some side by sides for easy comparison, thoughts?!?!